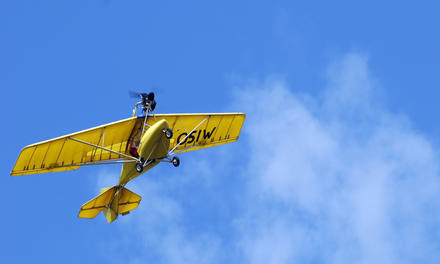 Reach for the sky...
The Buëch skies are famous for their quality and their brightness thanks to low pollution. Come and check for yourself.
The aerodrome of Chevalet is hanging on the heights of Aspres-sur-Buëch. You can discover and maybe get experience on how to fly an ULM or a glider.
Just above, paragliders and gliders can use a beautiful taking off area on the ridge of La Longeagne.
réservation en ligne
Bleu Alpin
Aspres-sur-Buëch
Découvrez la vallée du Buëch et le plaisir du vol en ULM Autogire.
Baptêmes de l'air, balades découvertes et grands circuits touristiques, écoles de pilotage, missions photos et vidéos.

Sur réservation.
Alpine Flying School
Aspres-sur-Buëch
Alpine Flying School vous propose de découvrir la région à bord d'un ULM ultra moderne et sécurisant ou d'un moto-planeur.
Du vol d'initiation, à la formation complète, Alpine Flying School vous propose différentes formules adaptées à vos envies.
Gap -Tallard Fly Dream
Tallard
Quoi de plus dépaysant qu'un voyage dans le ciel des Hautes-Alpes ? Entre lacs et montagnes, une diversité d'activités sont proposés. Il y en a pour tous les goûts, dès 8 ans !Adrénaline ou contemplation, découverte ou formation, à vous de choisir !
Parapente Max
Oze
Découvrez par les airs les sites magnifiques de notre vallée grâce à la magie du parapente, en décollant à pied et en silence avec un moniteur professionnel. En toute tranquillité, laissez vous balader au-dessus des montagnes du Buëch et du Dévoluy.
Association Aéronautique d'Aspres
Aspres-sur-Buëch
L'AAA est constituée de pilotes bénévoles, professionnels ou amateurs. Elle est affiliée à la FFVP, et à la FFPLUM.
L'AAA a pour but la découverte, la formation et la pratique des loisirs aéronautiques.
Elle pratique le vol en planeur et ULM multi axes.